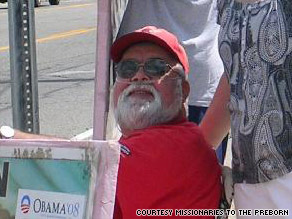 While most major media are saying "unknown" with regard to identity, one blogger is saying who:
Blogging for Michigan - "I'm getting reports that Jim

Poullion

, the

Owosso

'sign guy' has been shot and killed outside of

Owosso

High School.

Jim has been an anti-abortion activist for over a decade. He is known for his very confrontational manner and his extremely graphic signs which are supposed to depict aborted fetuses.

I haven't had any official confirmations on the shooting. ABC 12 is reporting that one person has been shot and killed at OHS. The news on

Facebook

and the

Shiawassee

forums is that he was shot 4 times and has died from his wounds."
Conventional name deleted
politically correct coverage can be found here
.
UPDATE:
Conventional
media is now confirming what "Blogging for Michigan" already told us early in the day:
"

WEYI

-TV NBC 25 - At approximately 7:20 a.m., Jim

Pouillon

, a

prolife

activiest

[sic], was shot and killed at

Owosso

High School. The shooter then drove to

Fuoss

Gravel where, around 8:17 a.m., President Mike

Fuoss

was also shot and killed."
If there are more dead, it is not being disclosed yet. Rumors persist at "Blogging for Michigan," that there may be.
"Approximately 45 minutes after the shooting, police apprehended a suspect. At this time, NBC25 does know the name of the suspected shooter and will hold the release of his name. Police are not releasing the suspects name until warrants have been issued. The

Shiawassee

County Sheriff's Department says the suspect himself and witnesses are being interviewed."



***A 3:00PM PRESS CONFERENCE IS EXPECTED AND WE WILL UPDATE AS SOON AS DETAILS WARRANT***
Sphere: Related Content